What is the helpful content update?
Google recently announced a new algorithm update that is designed to promote helpful, informative content on the web. This update called the "helpful content update" will affect how Google ranks websites in its search results. If you want to understand more about the helpful content update, how it affects the website, entity authority, and the impact it has had on search rankings, read on! Google's new helpful content update specifically targets "content that seems to have been primarily created for ranking well in search engines. The update is designed to promote "high-quality and informative content" in search results.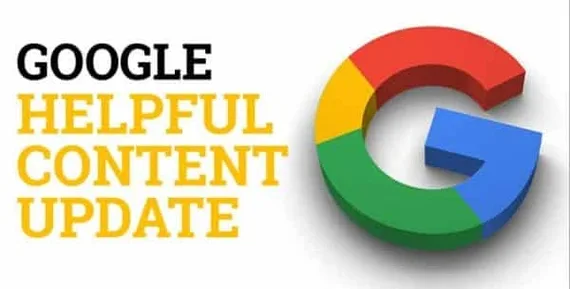 SEO Expert Shares Insights on the Helpful Content Update
Lane Houk, a recognized expert in digital marketing and SEO, just authored and released a white paper on the Google Helpful Content Update on the Quantum Agency blog.
In the article, Houk explains that the helpful content update rolled out on August 25, 2022 and completed on September 9, 2022 although Houk contends that this was just the first phase of this roll out and that he expects the new algorithm to be applied to more categories as Google engineers continue to tweak the algorithm until they see the outcomes they want.
Houk shared some

high-level takeaways on the recent algorithm update:
Googlebot crawls web pages and evaluates SIGNALS in content
This is a site-wide SIGNAL if/when the algorithm determines there is a relatively high amount of unhelpful content on the site
There is no alert or notification if/when the site-wide signal is applied (penalty)
The update is targeting SEO content and especially duplicate or AI-generated content
Instead of worrying about what do next, start re-evaluating existing content and look at how you can make it better.
Agencies need to start consulting their clients differently. Content is still king. Distribution is queen.

Houk also provided some answers to frequently asked questions:
FAQs
When did Google's helpful content update start?
That's the official end of what Google announced on its website article to customers and the new user experience from this update on Thursday, August 18, 2022. The helpful content algorithm update then launched on August 25th, 2022, targeting websites with a large amount of unsatisfying or unhelpful content. My intuition would tell me that this update will continue to roll out in future updates as Google applies the algorithm to more categories of sites as it perfects the results it is looking for.
When was Google's helpful content update finished rolling out?
Overall, the update took 15 days to roll out, officially finishing on September 9th, 2022, with some websites seeing changes in their rankings and others seeing no change at all. Analysis of the first phase of this update shows the update really impacts only a few categories in a major way.
How do I recover from the helpful content update?
First, prioritize your readers but the answer is simple: by ensuring that your content is high quality, original, and informative for those readers or clients. This means that you need to put in the extra effort and strategy to make sure that your content stands out from the rest. Add value to your content. Look to inform and educate your target audience. Build structure and signals into your content. Focus on providing a reader with a great user experience (UX). Even Google discussed that in their release. Don't forget that Googlebot is also a reader/user of your content! Here are some tips on how to do all of this effectively!
To read the full article please visit the source here.
About the Author
Lane Houk is the founder and CEO of Signal Genesys, Quantum Agency, and The Marketing Center of Excellence. He is a frequent guest speaker and a recognized industry expert.
Lane is a US Army veteran and a recognized expert in the marketing agency industry. Lane has specific authority and expertise for multi-location enterprises in the Google Ecosystem and is a Level 7 Local Guide. He is a frequent speaker at agency events on topics like Search Engine Optimization, Local/Maps Optimization for Businesses, and how to scale a digital marketing agency.
As the Managing Partner of Quantum Agency, a white-label marketing agency, he leads a cross-functional marketing team that delivers quality white-label marketing solutions for other digital agencies. Lane is also the co-founder of a proprietary web presence platform called Signal Genesys, a white-label marketing platform for agencies.